Background

Planting the planet has never been as important as it is today. How to make forest regeneration more efficient? This is a question that BCC has been working on in cooperation with the Renewable Materials Company Stora Enso and their packaging experts. Moving seedlings from nurseries to planting sites requires packaging, and with speedy packaging automation and eco-friendly renewable packaging this has been made faster and more efficient than ever. As part of a packaging automation initiative for the forest industry, BCC has collaborated with Stora Enso on packaging automation. Initially covering the Nordics and Baltics, the aim is to include other market areas moving forward. In general customers are looking for:

• Fast packaging of plants

• Carefully and efficiently optimized for reduced wastage in the packaging process.

• Safer machine for employees to handle and drive.
How W50PP Auto seedling packaging is configured
The W50PP is a fully automated plant packaging machine (W50PP) which increases the overall plant packaging production rate. The machine is configured to allow the the operator to adjust the grip height according to the size of the plants during operation. The machine is also equipped with a closed system that makes it both safe and ergonomic for the operator to operate. The machine is configured with automated and efficient packing systems which enable the customer to expand operations in the future.
The machine is adapted for 200-300mm box height. To secure the investment for the future and provide the opportunity to pack larger plants, this machine can also pack plants in a box height of up to 400mm. As part of this project, a special cardboard box that is moisture-resistant with waterproof glue was developed to replace previously stapled boxes, thus increasing the environmental responsibility for the customer from packing to planting.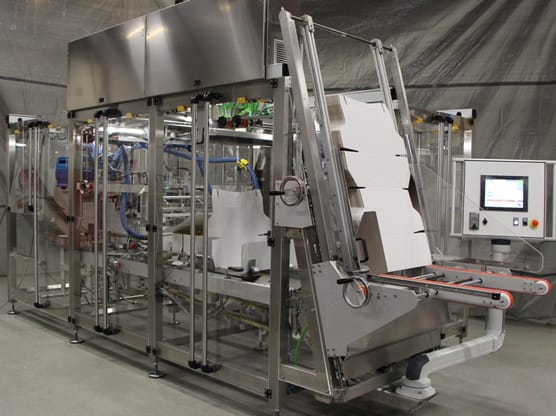 The machine is equipped with the following features:

• Ergonomic charging and easily adjustable magazine.

• Good accessibility to machine and controls.

• Adjustable grip height during operation and number of rows that the machine picks out of the trays.

• Safer closed system, which makes it easy for operators to operate the machine.

• Handles many different types of boxes.

• More Efficient packing – the cardboard box is wrapped around the seedling bunch instead of placing the seedlings in the box.

• Less waste, by optimizing how the plants are handled in the packaging process.

• Stable construction in milled aluminium.

• Simple and accurate adjustments
Other interesting information
Automated packaging systems adapted to your business open up new opportunities, among other things:

• save production time,

• promote the environment,
• reduce costs
With BCC's automation and packaging solutions, the packaging process can be tailored and optimize to match production requirements.

For more information, please contact Heinz Reinstorf (bcc@fnssa.co.za).