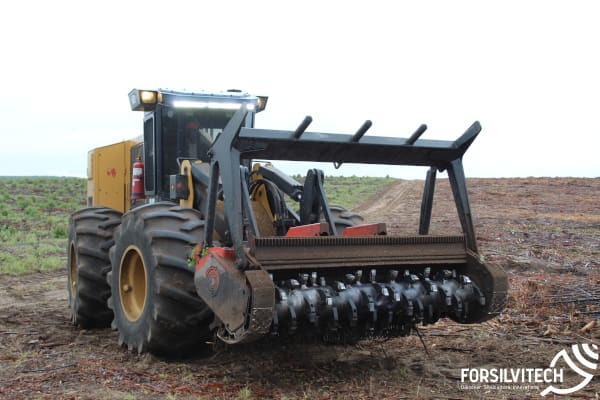 What is mulching in forestry?

 Mulching is a residue management method carried out when the site is prepared for planting. Mulching in forestry typically involves a process of using a machine to clear, grind or cut down vegetation or residues.
Mulching equipment in forestry

Forestry conditions are harsh and may comprise of various inconsistent material thereby requiring robust equipment. Forestry mulchers are configured to have different power outputs to suite various prevailing conditions (vegetation and terrain). There are two types of mulchers used in forestry i.e. Drum and disc mulchers. Disc mulchers are commonly used to grind down hard material such as stumps, branches, and treetops at one time and disk (rotary) mulchers cut and feed materials such as trees and branches with speed.
Mulchers can be on wheeled or tracked carriers and these carriers can be purpose-built for forestry or adapted from agriculture equipment (e.g. tractors). Wheeled mulchers are more versatile because they are mobile, quicker and can overcome obstacles on the ground with ease compared to tracked mulchers.
Benefits and constraints of mulching
Mulching provides better access to the site, increases soil moisture retention, reduces nutrient loss and lowers fire risk. However, the mulching operation can be costly, dusty and in certain instances create an environment suitable for pests and diseases.
Here are some videos of some mulchers working in forestry conditions!