Background

STIHL pole pruners are lightweight, yet powerful machines developed for silviculture operations. For better reach they come with a telescopic function which allows the operator to cut branches up to 5m in height. In commercial forest application pole pruners can be used to obtain knot free timber and provide good access. STIHL produces both battery and petrol-powered machines which makes them ideal machines for tree maintenance. The pole pruners are equipped with high torque engines and powerful batteries thus can cut thick branches effortlessly.
Battery powered pole pruners
STIHL pole pruners deliver fast, precision pruning from the safety of the ground. STIHL offers a selection of battery powered pole pruners. The battery powered selection consist of pruners such as the HTA 86 and the HTA 66 including the cordless pole pruners. These pruners are available in telescoping and fixed-length options. Battery powered pruners produce zero exhaust emissions, deliver instant starting and powerful quick performance.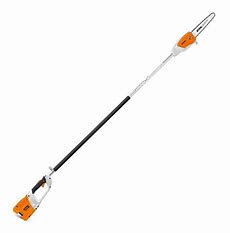 Fuel powered pole pruners

Fuel powered pole pruners are equipped with fuel-efficient and low emission engines which means lower fuel costs. STHIL consist of different models of fuel powered machines such as the HT 105 which replaced the HT 103 and HT 135 which replaced the HT 133 and HT 131. Specific models may not be available in specific countries, thus local dealers can be contacted. STHIL fuel powered pole pruners are offered in fixed and telescoping shafts that enables them to reach branches higher up on the tree.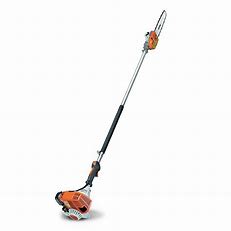 Pole pruners to look out for

STIHL will produce the new HT 105 and HT 135 models. The new models feature a magnesium lightweight gearbox and a STIHL 4-MIX high torque engine that will provide fast acceleration, more power, increased torque, lower noise, reduced emission and increased fuel efficiency. The HT 105 will feature a square telescoping shaft that will increase rigidity while extending for precision cutting. The HT 135 is a more powerful machine with extended reach. Both models will be fitted with an anti-vibration system for optional comfort.