What is it?
The 2m dribble bar spray system is an innovative spray kit developed by Eradispray. The inspiration for this design comes from the standard "T" dribble bar used for the line clean. The dribble bars were developed as a means to replace the manually intensive hoe traditionally used for ring weeding. The 2m dribble bar is considered as a chemical hoe with improved ergonomics and productivity. It has a higher water volume than more traditional spray nozzles which gives the operator the ability to spray in higher-than-normal winds, reducing the chances of spray drift onto none target species. This simple but effective tool reduces the need to use heavy and cumbersome wind boxes.
Video supplied by Eradispray
How the spray tool is configured?

The 2m dribble bar spray system is made from a lightweight aluminium frame which makes it easy for an operator to carry, it can be used in a manual operations with the use of a battery driven 16lt knapsack or tractor mounted spray boom. Depending on the number of off-takes from the tractor boom rig, the dribble bar system can be configured to run up to 4 of the 2m dribble bars at the same time. This means 4 inter-rows can be sprayed with one passing of the tractor unit. As seen the below image, each unit is interchangeable between the manual and the "Modernised" options with the centre take off point available for the pipe leading to the tractor boom. At a comfortable walking speed, the unit puts out 200lts/Ha @ 1 bar pressure.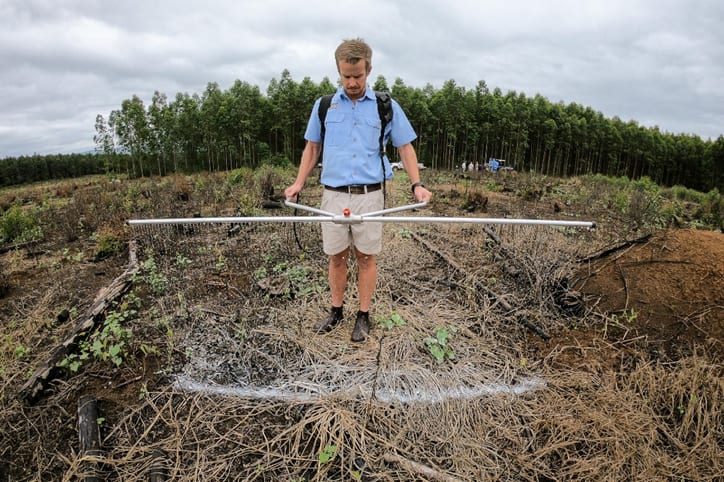 For more information about this tool, contact sean@silvix.co.za