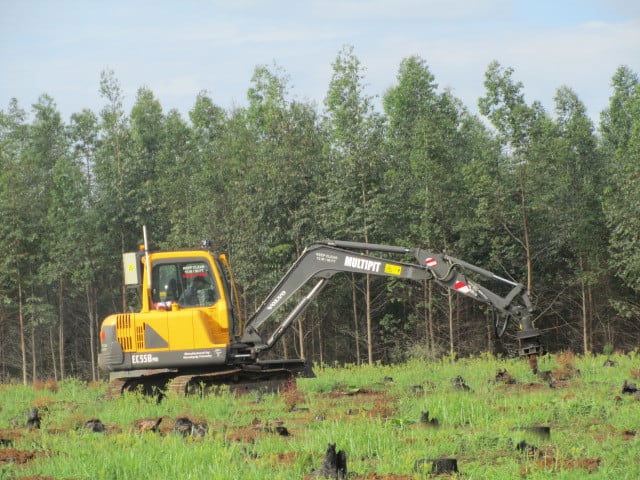 What is it?

The Novel MPAT is a machine designed to prepare single pits for forest regeneration purposes. It comprises of a Volvo EC55B compact excavator which is powered by a 38KW Kubota engine (TIER 3 Engines). The excavator carrier is mounted with a pitting head which comprises of a Tungsten chip hard faced tine with a center auger. It is estimated that the fuel consumption on this machine varies between 2.8 to 3 litres per hour. The excavator can be fitted with an optional feature called Slope-watch. This technology alerts the operator when a preprogramed slope safety risk is reached.

What it does?

The pitting dimensions produced by auger head are 350mm wide and 350mm deep. The machine has depth-sensing capabilities which enables it to only record completed pits. It is estimated that the machine can produce an average of 2500 pits per shift. Depending on the stand density required, the machine can prepare multiple pits from a static position.
Other interesting information

Other features of the machine include a GPS module which enables the recording of individual pits. Furthermore, data collected by the GPS can be accessed remotely by the supervisor or manager. Removing the auger head can done with ease which enables the standard excavator to be used for other purposes such as road clearing with a bucket or tree felling in thinnings if a felling head is attached.