What is it?

The BL4/EX/VT is the latest FAE forestry mulching head designed for use with excavators. It has the Bite Limiter technology which is ideal for clearing dense woody vegetation. The mulcher shreds the woody material into smaller coarse pieces which hold moisture and act as a cushion on the soil surface.
How the machine is configured?
The BL4/EX/VT for 18-25-ton excavators comes in two working widths, 135 to 160 cm. The heat-treated forged-steel BL blades are made to last and can be sharpened to keep operating costs lower. The BL4/EX/VT has a Variable Torque (VT) motor for noticeably better performance, increased torque when needed, and minimal risk of rotor stalling. The sturdy steel frame is built to last, and the Poly Chain belt drive transmission guarantees optimal power transfer and reliability.
How it works?
The BL4/EX/VT can mulch stumps and logs up to 30 cm in diameter. The mulching head makes use of steel limiter rings which limit the reach (bite) of the teeth, reducing the amount of power needed, guaranteeing constant working speed and performance when mulching and clearing vegetation in a forest stand. The mulching head also comes with hydraulic thumb which can be used to pick up and repositions residues for effective mulching (damaged stands e.g. windblown forest stands).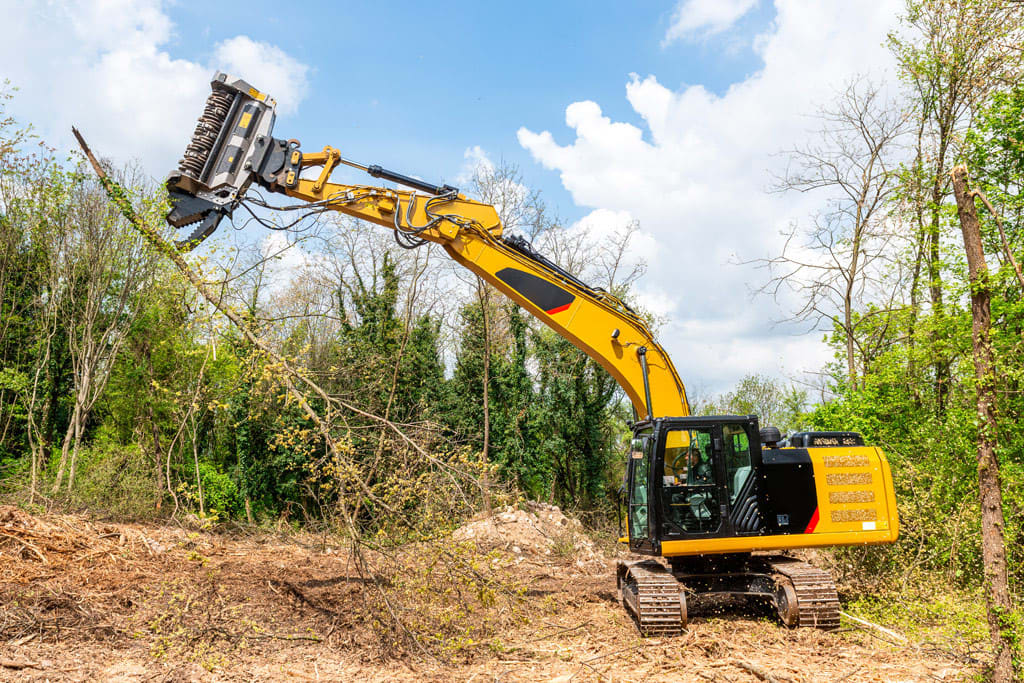 Other interesting information

The BL4/EX/VT can include the optional Sonic system, which keeps the operating machine and the FAE mulcher perfectly aligned by automatically calibrating and constantly regulating the mulcher's hydraulic parameters for a significant increase in productivity.
Standard equipment

• Enclosed machine body

• Motor enclosed in the frame

• Bulkhead for hydraulic connections

• Poly-Chain® belts transmission

• 110/60cc variable torque hydraulic piston motor

• Bite Limiter Rotor

• Flow control system valve

• Diverter valve (plug in and play)

• Safety and anticavitation valve

• Adjustable skids