Background
The BraSatt project is a forestry modernization initiative spearheaded by Södra with the goal of developing new forest technology for soil preparation and planting. When complete, the new planting technology is set to increase tree higher survival rates, increase profitability and be environmentally friendly on the site. The leading company is Södra which is a Swedish forestry cooperative comprising of about 53 000 individual forest owners. The company processes forest raw material into renewable, climate-smart products that are exported globally. The BraSatt project commenced in the spring of 2020 and continues to gain traction in 2021.
Overview of project goals and plan
According to Södra, the goal is to have a prototype machine ready for testing during the 2023 planting season. As part of the ensuring that the goals of the project are achieved, Södra signed contracts with various partners with expertise in various technology areas (i.e. Axelent Engineering AB; BitAddict AB; Boid AB, CIT; Digitization Group, CIT , LUE Engineering AB, Ebeaver AB and Forest research) early this year. Furthermore, all project partners were given different roles and responsibilities focusing on reviewing the regeneration process from nursery to planting as well as the operator's working environment. A consultative approach has been adopted to ensure that the technology produced is customer orientated. This is an ongoing process which involves interviews with various stakeholders' groups. Other parts of the project plan are focusing on the development of technology and the mechanical requirements.
Overview of the machine
The Ebeaver has been selected as the base machine for the new soil preparation and planting technology. Ebeaver is an established machine commonly used in the bioenergy harvesting sector and comprises of a compact, radio controlled wheeled carrier which is highly maneuverable on rough terrain and easy to move (Image below). To facilitate an easier software testing during the development phase, a mini beaver (mini prototype Ebeaver) has been developed by BitAddict. The mini beaver is 60cm long and constructed using components from radio-controlled cars. In this prototype the behaviors available on the larger Ebeaver have been captured. Both the Ebeaver and the mini beaver can articulate and are 8-wheel drive machines with all the wheels possessing the capability to suspend independently.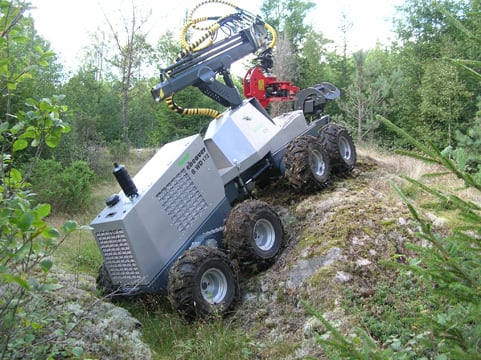 Image source: Ebeaver 
Current actions

The project is currently working on computerized simulations focused on programming predefine sequences that the machine needs to follow, and the goal is to automate this process soon. Forsilvitech looks forward to this important technology development which will hopefully overcome some of the existing common challenges with mechanised planting equipment (such as low productivities and poor tree planting quality).