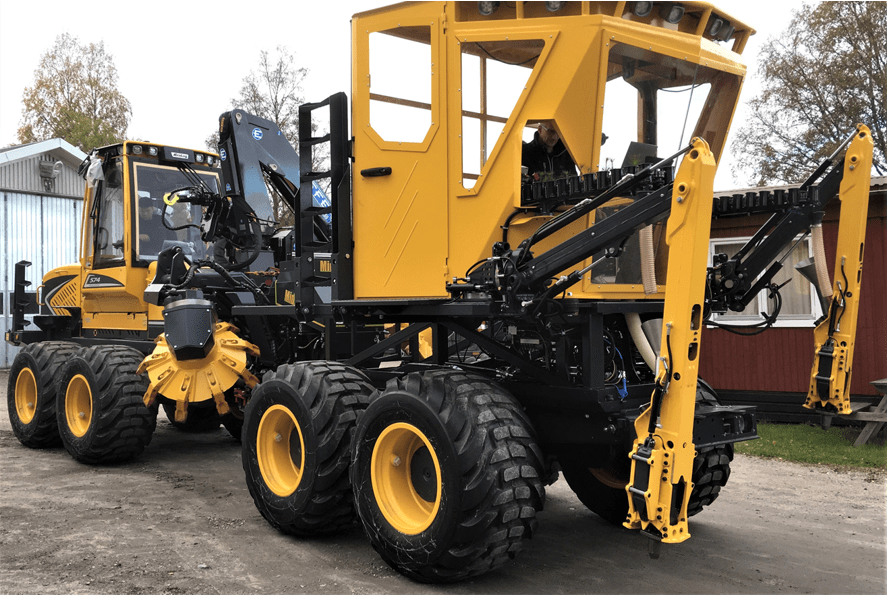 Source: Swedish Forest plants, Sveaskog´s nursery division

What is it?

The PlantmaX is a continuously advancing tree planting machine which has been developed as a result of collaboration between three entities (Plantma, Vallsta Skogmaskiner and Sveaskog). This machine was developed based on the concept of the old Silva Nova machine developed in the 1980s.
How is the PlantmaX configured?
The machine comprises of an Eco Log 574E base machine with a MidiFlex disc trencher Unit and two arms for planting the seedlings. The PlantmaX also has a seedling storage platform which can hold between 10 000 and 20 000 seedlings depending on the size of the storage platform.
How it works?
Three people are involved in operating the machine,

• Driver – responsible for driving the forwarder (carrier machine)
• Planter in the back cab – responsible for feeding the plants into the planter of the machine
• Tending tasks – this person is mainly responsible for tending the seedlings in the holding area and doing other general tasks.
The process of planting happens through a series of sequential steps:
• The soil is prepared ahead of the planter by the two-disc scarifiers;
• The planter operator selects and continuously feeds the seedlings which are released down through a hose;
• When released, the seedling proceeds into a funnel and down into a planting pipe

• The seedling is planted through the bottom opening of the planter tube and the soil surrounding the seedling is firmed up on two sides.

• Each arm can plant a seedling approximately every three seconds
Other interesting information

GISS and SVP are two internal digital support systems that are used to link the site operational activities to the contractor.
PlantmaX machine specifications
• Weight – approximately 22 tons

• Width: 3.09m

• Length: 11m

• Axis distance: 5.7m

• Height: 3.85m