What is it?
In forestry, spraying applications are required when performing many activities such as preplant spraying, weeding after planting, noxious weeding, conservation area weeding, pesticide application, firebreak preparation etc. The STIHL SGA 85 cordless backpack sprayer is a battery powered herbicide and pesticide applicator. It is a high-powered model, and it is the first battery-powered sprayer from STIHL.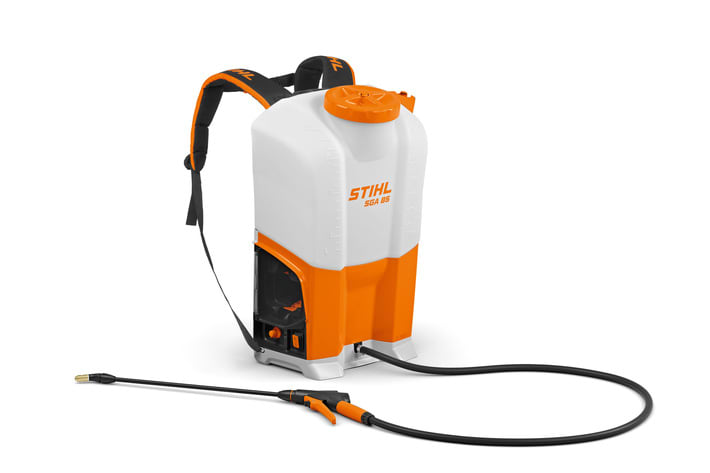 How it works?
The STIHL SGA 85 cordless backpack sprayer uses AP 100 batteries. The running time is about 510 min which amounts to 8.5 hours work with one charge on the batteries. The AP batteries are compatible with other machines in the AP range (e.g., pole pruner, brushcutters and chainsaws) . The sprayer delivers accurate rate of application which helps to reduce wastage of chemicals and ultimately less chemical on environment. It has a powerful and trouble-free diaphragm pump. Furthermore, the sprayer has a constant pressure spraying action that can be adjusted between 1 and 6 bar. The on/off button and pressure rotary adjusting knob are easily accessible during operation while on the back. The sprayer also features a pressure gauge on the lancer.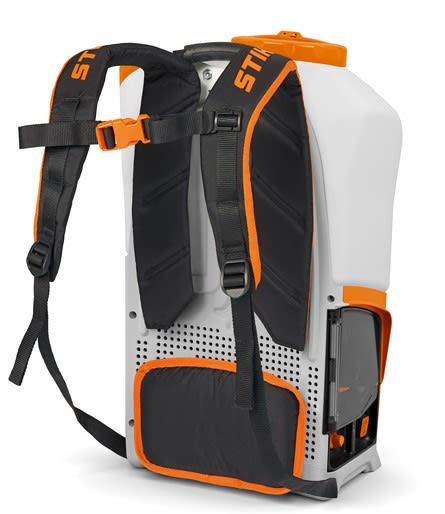 In relation to ergonomics, the sprayer has a comfortable carrying system through an adjustable support harness with a chest strap that ensures a high level of working comfort and low fatigue. Additionally, an accessory hip belt with a holster to hold the spray lance in place during work breaks is available to enhance efficiency of the spraying operation. The sprayer has numerous existing accessories (e.g., Stihl Smart connector) and offers the various possibilities for use and application. The Smart Connector can be attached to STIHL SGA 85, enabling it to deliver important information about your STIHL cordless backpack battery powered sprayer via Bluetooth® 4.2. The Smart Connector offers entirely new functions and services, as a basis for device management both in your home garden using the STIHL connected app, and for managing your machine fleet using the STIHL connected Portal.
Other interesting information
• High operating pressure and enhanced volume flow to cover a wide range of applications

• Easy operation (while on the back) by adjusting the operating pressure via a rotary knob

• STIHL SGA 85 cuts the effort required for manual pumping

• Flexible application due to different pressure setting from 1 to 6 pressure bar

• Quick, easy to adjust and set pressure during operation

• Practical lance holder for ease of tool transporting and when filling the container

• Optimum battery protection against water splash during operation

• Low noise

• The sprayer is designed to be suitable for use even in adverse weather condition

• Comprehensive range of accessories are available to match your spraying requirements.

For more information visit: 
Stihl