Introduction

Site preparation methods used in the forestry industry vary (controlled burning, windrowing, broadcasting, mulching etc.) with the aim to prepare the stand for better access to perform subsequent silviculture operations such as marking for pitting, soil preparation, planting, and weed management. The forestry industry has been pioneering the use of advanced technologies to improve forestry management operations in a productive, efficient and economically viable way. In line with that, FAE has introduced stump cutters integrated on tractors, excavators, tracked carriers and special vehicles. These stump cutters are designed to get rid of stumps and roots which is a solution that forest managers require during site preparation post harvesting. Stumps are the most prevalent obstacles in a stand with the potential to affect productivity and efficiency of mechanical pitting and planting operations. The selection of carrier type is dependent on the application, suitability and the potential goal of the site.

What is stump grinding?

Stump grinding is an effective way to remove tree stumps and roots by means of a rotating cutting disc that chips away the wood. Stump cutting an efficient way because stumps are eradicated without digging or pulling thus minimizing site damage. The 200/SC, 300/SC, and 500/SC heads from FAE are the tools to counteract the problem of stumps on a stand. They are designed to shred stumps and roots into a certain depth and diameters (200/SC – 51 cm deep, 300/SC – 51 cm deep; 99 cm wide and 500/SC – 61 cm and 104 cm wide). The hydraulic and proportional swing control allows work on wide surfaces without moving the vehicle. FAE stump cutters are suitable for carriers with higher horsepower such as the PT 175 also suitable for 300 hp and 475 hp carriers.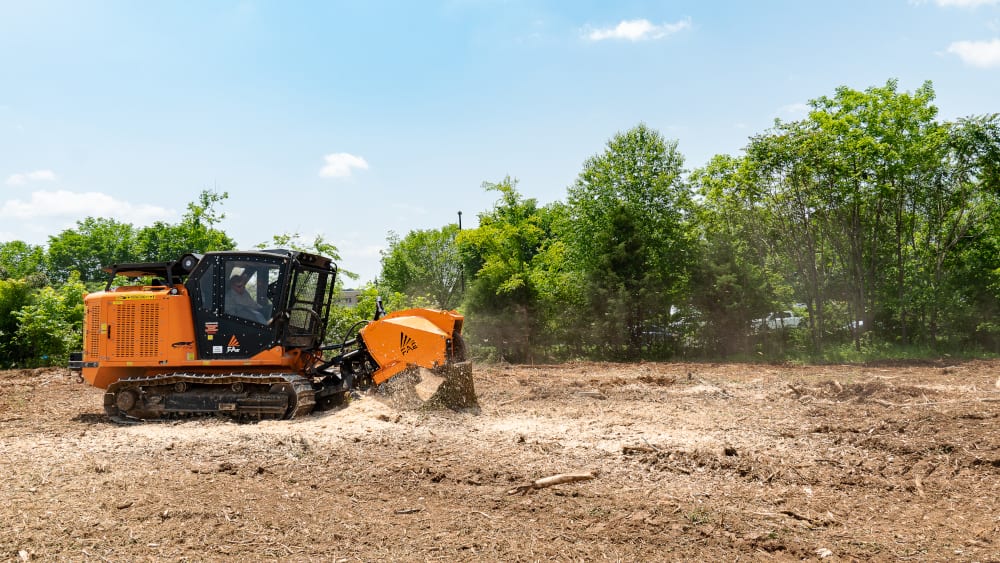 PT 175 with 200/SC cutting head.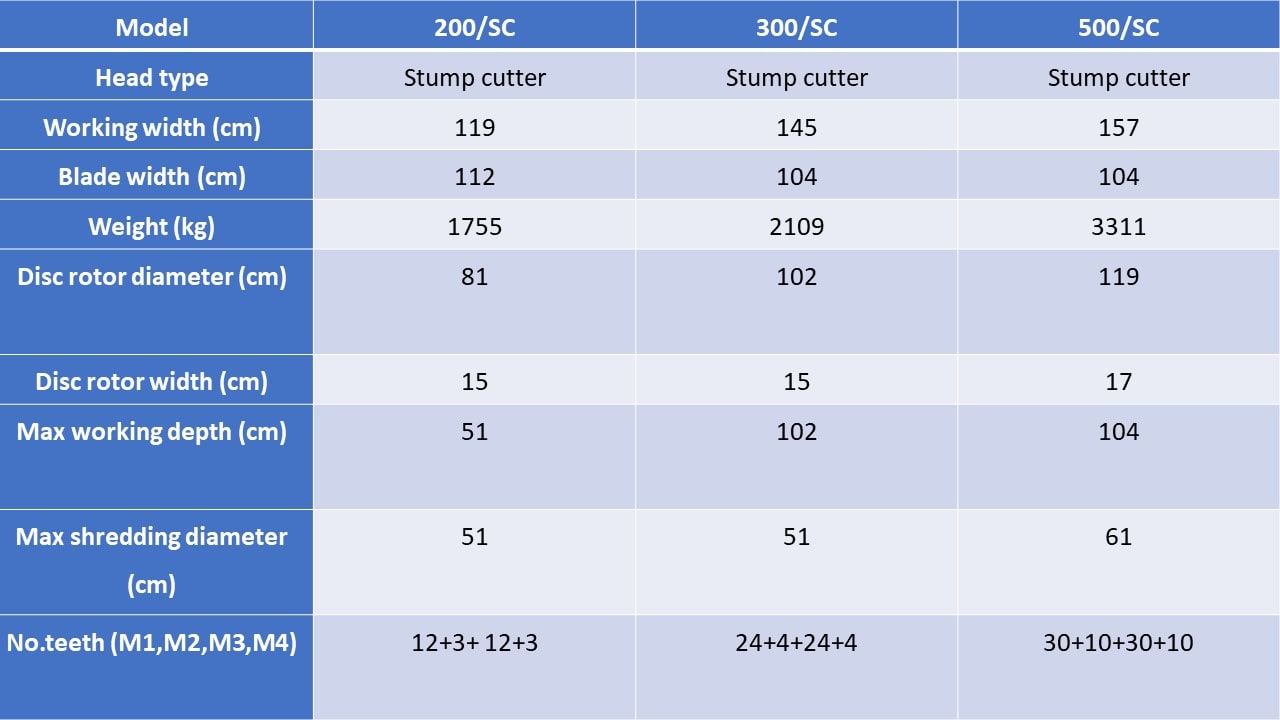 Picchio et al, (2012) conducted a study on stump grinding in a poplar plantation working time, productivity, energetic and economic inputs of a New Holland 8870 with a stump cutter Ferri Rotor. It was found that the grinding time on average was 0.01 min on a stump diameter of 4.8 cm. The net productive hour system without delays was 227 stumps per hour with the work capacity of 0.82 ha/h. Furthermore, in this study, important information about technology options and development on stump treatment in post harvesting tree plantations was provided along with the effectiveness of stump cutting when applied.
Benefits of stump cutting

• Reduced soil erosion as the chips produced act as shield on the soil

• Retention of soil organic matter inputs

• Reduction of potential negative impacts on forest soil carbon stores

• Reduced soil compaction

• Increase of soil nutrients stocks and nutrient cycling

• Improved site productivity

• Decrease in non-forest vegetation and herbicide requirements

Conclusion

Stump cutters have been there but not widely used in the forestry industry. To date there is but minimal usage of them as mulchers are the preferred choice of equipment used in the forestry industry. Adoption of this machine application may increase if more studies are conducted on their productivity and site benefits. FAE stump cutters are robust, built for purpose and forestry companies who need to get rid of stumps can consider using this equipment for excellent results.
Content References
https://www.fae-group.com/en/products/land-clearing/pto-driven-heads/stump-cutters
Picchio, R., Verani, S., Sperandio, G., Spina, R. and Marchi, E., 2012. Stump grinding on a poplar plantation: Working time, productivity, and economic and energetic inputs. Ecological Engineering, 40, pp.117-120.
Acknowledgments
Mr Mike Sampels and Bradly Wiseman from FAE-USA for supplying us with information and images used to in compilation of this article.