Background
Stump management and realignment of planting lines in forest post-harvest areas are one of the challenges faced in soil preparation. Nowadays, some options are available on the market that perform both the clearing and realignment, subsoiling and fertilizing operations simultaneously. The set of equipment evaluated comprised of a crawler tractor John Deere 850J (153 kW, 20,580 kg), equipped with a front 1040 V-Shear blade (4,486 kg) at the front , and a Savannah Magnum 420 Combination Subsoil Plow (4,020 kg), with a coupled reservoir for fertilization at the rear.
Experiment process and findings
The soil preparation for the re-establishment of Eucalyptus species was carried out using the minimum cultivation system. Subsoiling was conducted only in the planting lines, with spacing of 3.5 m x 2.0 m between plants. The V-Shear front blade had the function of cleaning the area by lowering the existing stumps and positioning the forest residues from the previous rotation harvest laterally, in order to facilitate the use of the subsoiler. The subsoiling and granular fertilizer deposition depth were 50 cm and 15 cm respectively.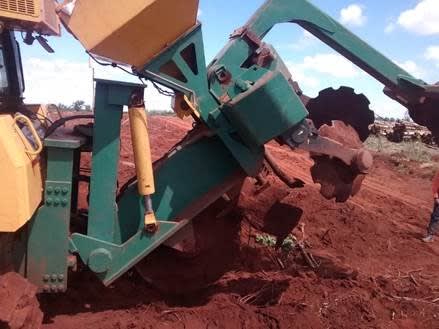 Image Romulo Leonardo
An evaluation of operational performance was performed by estimating the parameters of operational efficiency, effective field capacity (utilisation) and theoretical field capacity (machine efficiency). Operational efficiency of 77.4% and an effective field capacity of 0.86 ha/h were observed, with a theoretical field capacity of 1.12 ha/h. Unproductive operation time, represented by the time spent on subsoiler repairs and maintenance, and the shank cleaning operation accounted for 20% of the total time.
Other interesting information

This machine is classified as a Level 6 technology according to the Survey of Mechanization Level in Forestry.