Introduction
Forest operations are known for their high safety risks and operation on complex terrain conditions. As a result, operators using forestry machines often sit in forestry cab and must endure the prevailing rough conditions which are ergonomically unfriendly and mentally straining. The remote control of silviculture equipment means that operators can control the machines from a safe distance which may increase safety and improve overall efficiency.
Current applications
The remote control of silviculture equipment is emerging in the application of small track machines which can perform tasks such as vegetation clearing, soil preparation, planting and seeding. These remote-controlled units make use of an operator (line of sight) who guides and operates the machine at a safe distance from the machine. For example, FAE recently introduced the RCU-55 compact remote controlled tracked carrier which can be paired with FAE forestry mulchers for applications in hard to access and steep slopes of up to 55 degrees. The RCU-55 comprises of a remote control with a large 3.5" display for superior management of all vehicle and attachment functions and with customizable function keys. A 2.4 GHz transmission frequency ensures reliable communication.

Another example of wireless remote-control units used in silviculture applications can be seen in the Moritz remote controlled implement carriers. The Moritz carriers can be fitted with an attachment such as a mulcher, cable winch, sowing strip tiller and planter. The remote control is used to operate machine by providing features such as engine start/stop, infinitely variable engine speed adjustment, travel adjustment pre-selector, throttle lever, emergency stop etc. These functionalities are important for the full remote operation of the machine.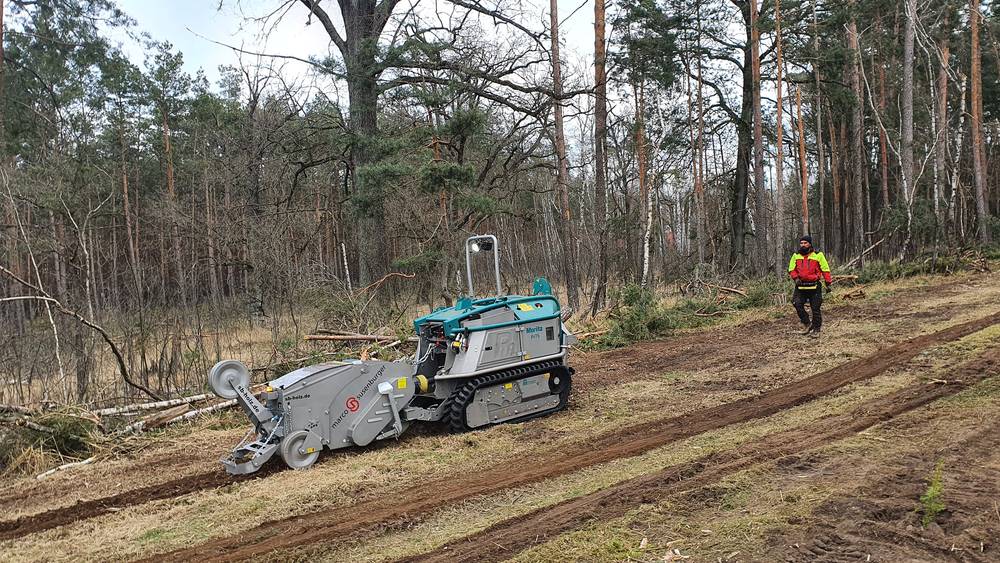 Future applications
Most of the current applications of remote-controlled operations can be seen in skid steers, mini excavators and compact tracked carriers. There is potential for this technology to be expanded to larger equipment across various forestry activities. Interestingly, work is being carried out by various organisations on the use of teleremote applications in silviculture and harvesting equipment. There is understandably a need for this technology because teleremote applications involve the removal of an operator from the hazardous area to a secure location where the operator can operate the machine with the help of cameras and sensors. In silviculture operations, this technology is still in its early stage or development, however as automation and increased robotics expands within the industry this technology may become more widely adopted where conditions require it.