Background
Over 20 years ago, IQ Firewatch has been specializing in automated early wildfire detection system. It is the only system that has been rolled out for long-term use in Germany, where its technology is crucial to protecting against forest fires. Having initially been implemented in the high-risk area of Brandenburg, the system is now also in use in many other parts of Germany where it safeguards people, property, and nature. The severity of climate change has made wildfire prevention measures a necessity in various other parts of the world.
How the fire detection system is configured
The seventh generation currently in use consists of a monochrome sensor for monitoring at long distances during the day, a colour sensor for additional spectral information, and a sensor with particularly high near-infrared (NIR) sensitivity for detections at night. An optional thermal infrared sensor can be added for monitoring hot spots on outdoor industrial facilities and critical infrastructure assets. The sensor unit is installed directly in the areas at risk, on existing towers such as telecommunication towers or fire watch towers in the middle of the forest, at least five meters above the tree tops. The captured raw image data is processed in the system unit directly on-site using algorithms developed in-house. A combination of feature-based characteristics with artificial intelligence enables high smoke detection rates with a low false alarm rate over long distances within a few minutes. Whether flat or mountainous forests, residential areas surrounded by forest, or industrial facilities, the system can be calibrated for different regions, vegetation, and operational and weather conditions. Various functions are available to the operator to obtain more imagery or live sequences to verify the fire, as well as to determine the exact location of the smoke source. Once regions are covered with multiple contiguous systems, the location can be pinpointed to within about five meters using cross bearing. In addition, the software uses a unique digital terrain model to which each sensor is specially adapted to achieve the highest localization accuracy.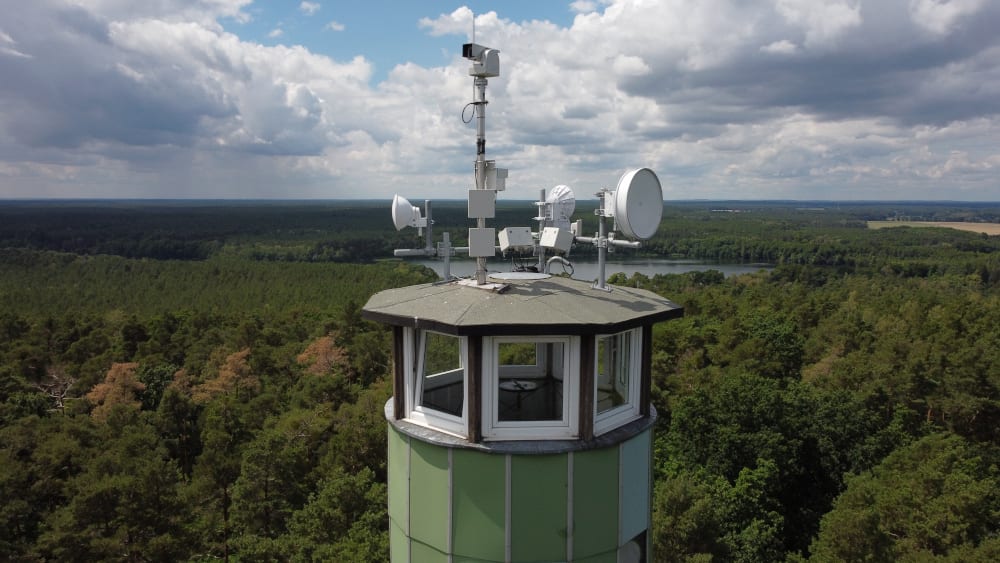 How it works?
The multi-patented IQ FireWatch system detects smoke and smoke-like events by using a multispectral sensor unit that rotates 360 degrees every 4-6 minutes and captures images from preset positions. These images are processed in real time by sophisticated software that combines feature-based algorithms and artificial intelligence. As soon as the software detects smoke, the system unit sends a message to the forest fire control center. There, the operator receives the fire message in the IQ FireWatch Office software, verifies it and either forwards it to the fire control center or discards the message. The unique interaction of hardware and software enables a monitoring radius of 20 kilometers under almost all-weather conditions, which corresponds to an area of 125,000 hectares or more per sensor unit. In good conditions, distances of up to 50 kilometers are not an unsolvable problem. Pinpointing the source of a fire as early and as accurately as possible allows dedicated firefighting units to respond more effectively and significantly increases the chances of putting out the fire before it spreads out of control.
For any inquiries:

Victoria Böhm

IQ Technologies for Earth and Space GmbH

Ernst-Lau-Straße 5 / 12489 Berlin / Germany

+49 30 863230-809

victoria.boehm@iq-technologies.berlin