Background
Developing, researching, and innovating new machines and solutions for eucalypt and pine nurseries is one of the main proposals of the Cooperative Program on Forest Mechanization and Automation (PCMAF), led by Prof Saulo Guerra and Dr. Guilherme Oguri, which is part of the Forest Research Institute (IPEF).
The new R1630-C automated tuber machine, manufactured by Eremaq, is now operating in Brazil. This machine was designed and built to increase mechanization at the nurseries, adding productivity and safety, reducing labor costs, and allowing fewer laborers in the tubing function, making those laborers available for other activities such as seedling quality evaluation or seedling field expedition. A manual operation requires five laborers more to insert plastic tubes into the trays compared to using two laborers to operate the machine.
Eremaq tuber machine

The R1630 C tuber machine is the third generation of a stationary unit, weighing 1,500 kg, with 6m x 2.4m x 2.3m (length, width, and height), with 6 m long tube belts, and an 8 m long tray bench. It can insert 16 tubes every 3 seconds, filling the whole tray with about 32 seconds. The entire process is automated, from sensors to programming. Also, there are safety sensors on the four doors and the hatch, an emergency button, easy and intuitive Touch screen HMI, with text and design that makes it possible to monitor the entire operation of the machine.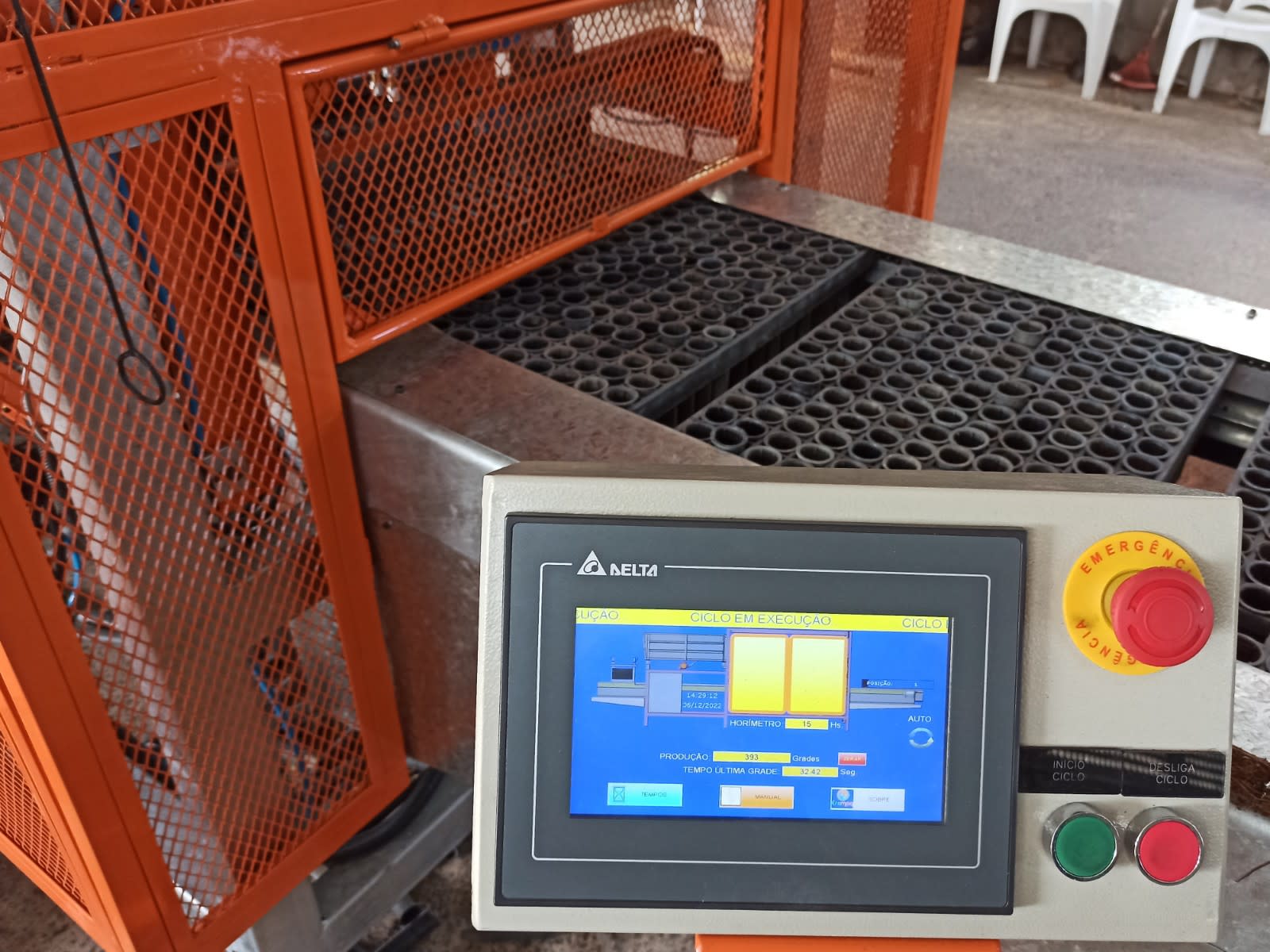 Results
According to our first records, this new machine increased the productivity of seedlings inside the nurseries. The device automatically fills the trays with 176 clean and empty tubes where the eucalyptus seedlings will be produced. On average, the tuber machine can fill up to 93 trays per hour, reaching the maximum productivity at 105 trays per hour, with 94.5% of operational efficiency. In comparison, in Brazil, each person manually filled, on average 17 trays per hour.