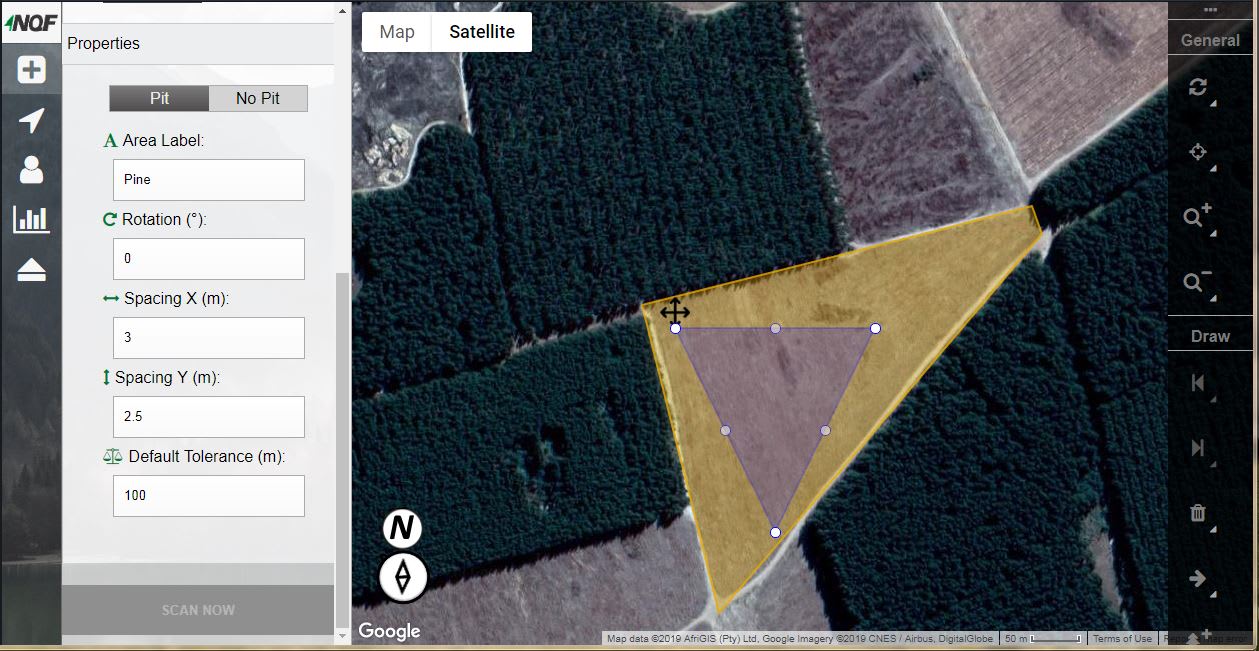 What is it?

Novelquip's Machine Management System (MMS) is a digital technology platform which facilitates precision in mechanised planting. MMS addresses several key challenges faced in precision mechanized silviculture operations today:

• Achieving consistent spacing accuracy, hectare after hectare, is difficult and stressful in manual or semi-mechanized operations, especially when running for long days and into the night and under challenging weather conditions.

• Inconsistent stocking results in underutilisation of land which is costly and difficult to optimise without the use of technology.

• The need for manual marking of planting spots is time consuming and costly in terms of planning, operations and quality control for management.

• Manual recording of plantings completed for reporting and invoicing is inefficient, inaccurate, time consuming and costly.

• Skipping planned plantings increases costs, drops yields and productivity.
What is does?
Novelquip's MMS uses a combination of industry specific software and accurate RTX signal to enable the silviculture management team to do accurate and relevant compartment planning, operations and reporting.
Planning: The online MMS platform for compartment and workflow planning and optimization allows a user to map the boundaries of a specific field using GPS points. These GPS points are then uploaded to a web server that generates a grid that can be adjusted by the user. User defined points, such as planned planting or exclusion areas within a compartment, can be generated within the mapped area and saved to be exported as a GPS point file. Map size and plantable area can be verified which leads to accurate stocking and improved income and expenses estimation. Grids with accuracy of up to 20mm can be provided.
Operations: Using telematics the GPS point file generated by the webserver is relayed to the carrier's on-board computer which analyzes the GPS point file and guides the operator with snap to position functionality to the individual planned planting points using the GPS guidance system installed on the machine. The on-board computer software creates a log of the actual GPS coordinates.
Reporting: The data log generated by the on-board computer is then exported by management for analysis and reporting and a map of actual plant positions is available. Data can be filtered by date, compartment and operator and provides information on planned hectares and seedlings planted compared to actual hectares and seedlings planted, shifts and total time worked in compartment, average plantings per hour, stems per hectare and actual GPS coordinates of each plant. In this way manual record keeping is eliminated. The actual plant positions recorded can be used for downstream tasks such as irrigation, planning future plantings in compartments and perhaps even autonomous harvesting in future.
Other interesting information

Novelquip's MMS streamlines forestry-related business processes reduces reliance on spreadsheets and handwritten reports and improves management's ability to access information and make decisions. Compartment planning and optimization leads to better land utilisation and precise stocking, and therefore no marking for planting is required and the need for supervision is reduced as these functions are accurately executed, controlled and reported by the system. The guidance system with signal correction snaps to the next GPS node, increasing operating efficiency by making fewer manoeuvres with the base machine. This also makes working at night and double shifting possible. Seedlings and other inputs (fertilizer, irrigation etc) can be placed in the exact locations desired, saving on the costs of these inputs and increasing the productivity of the entire crop.