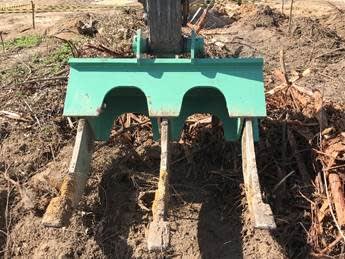 What is it?

It is an excavator-based machine with a trident rod attachment, which is used, for deep soil preparation when dealing with cohesive soils with pedogenic horizons. The trident rod configuration is primarily designed for the special application of breaking densified and very hard soils in dry conditions.This subsoiler has a 1,3m width, 1,6m long central rod and 1,2m long side rods. The total weight of the attachment is 750kg.

What it does?

The trident sub-soiler uses the rods on the attachment to scarify the soil for planting. The operator uses a pre-defined method to prepare the soil (see illustration below) by running the trident rods into the soil surface and then pulling the trident attachment back in the direction of the machine. Since the trident subsoiler does not have a positioning system, the operator uses the existing stump for subsoiling alignment. This machine can prepare one hectare in 2.5 hours.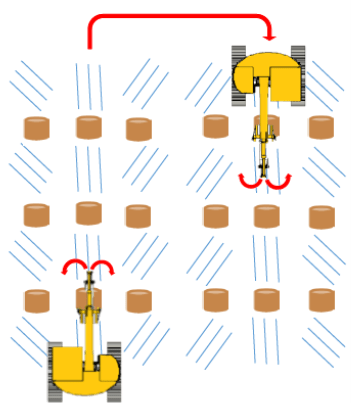 Illustration: Rafael Soler
Other interesting information:
When performing this task, the excavator-based carrier machine has a fuel consumption of about 22 liters per hour, taking up to 2.5 hours per hectare to prepare the soil for planting.