Background
ANCO Manufacturing has been developing and producing firefighting equipment for many years. ANCO adapted existing technology into an easy to use but very effective Mini CAFS system. The ANCO CAFS300 system was designed for tough, demanding fire conditions while enhancing operational requirements (activation / start-up) to be simplified. For easier maintenance the system has simplified componentry and mechanical foam concentrate mixing ratios.
What is it?
The ANCO CAFS300 is a South African manufactured and supported Mini Compressed Air Foam (CAF) system used to deliver a highly effective fire-retardant foam onto a fire. It has been found to be an effective method to suppress fires compared to the traditional firefighting methods.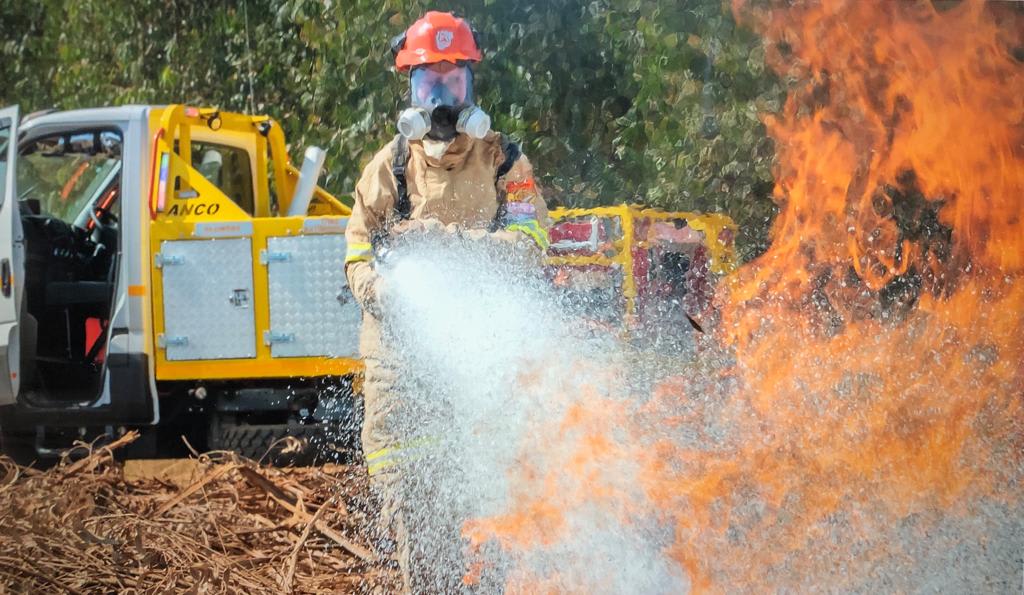 How is the ANCO CAFS300 system configured?

It is a self-contained unit that can be installed onto almost any fire fighting vehicle platform, even onto a standard single cab pick-up. All components and equipment are contained inside a fully enclosed cabinet and mounted onto on a sturdy base frame. A rear facing control panel contains all the control elements for engine start-up, pressure monitoring, foam activation and foam selection. Two variants of the ANCO CAFS300 are available: a petrol engine driven model and a hydraulic driven model. Both models offer the same performance in terms of foam delivery with the petrol engine derivative being more suited to installation on smaller carrier vehicles while the hydraulic driven model is more suited for installation on truck platforms with power take off (PTO)/hydraulic drive systems.
How it works?
ANCO CAFS300 uses a Class A foaming chemical concentrate for carbon-based fuel loads, combined with water and compressed air at exact ratios to create a continuous supply of fire extinguishing foam. The foam (approximately 10% water and foaming chemical) has far superior heat absorbing properties compared to water.
Advantages

• Effectively multiplies available water with a factor of 10

• Very low water consumption

• Dramatic reduction in hose-weight with ease to control multiple lengths of lay-flat hose

• Highly visible, longer lasting protection barrier for protecting vegetation and structures

• Compact design

• All service parts are accessible through bolt-off inspection panels
Technical specifications about the ANCO CAFS300

1.Dimensions: 1 220mm wide x 800mm High x 900mm deep

2.Weight approximately: 190kg (excluding water tank and other auxiliary equipment)

3. Compressor: Piston type, 40CFM (1080LPM) at 7 bar pressure

4. Water discharge / flow rate: 25 LPM (Dry foam) - 150 LPM (Wet-foam)