Background
Keeping track of daily forestry activities (e.g. staff attendance, productivity, quality) often involves intensive data capturing which is still primarily paper based. Supervisors often have to complete several forms which eventually get captured for management to process and make decisions. When managing large teams which perform labour intensive silviculture work or using equipment to perform specific activities, supervisors can so easily to loose track of the budgeted cost versus actual costs which can lead to significant losses in a business. Furthermore, productivity and quality reporting is often disintegrated and only fully reconciled at the end of a specific work period, which is normally before invoicing for payment. This can lead to financial losses as management is often reactive instead of being proactive when activities are performed on a daily basis.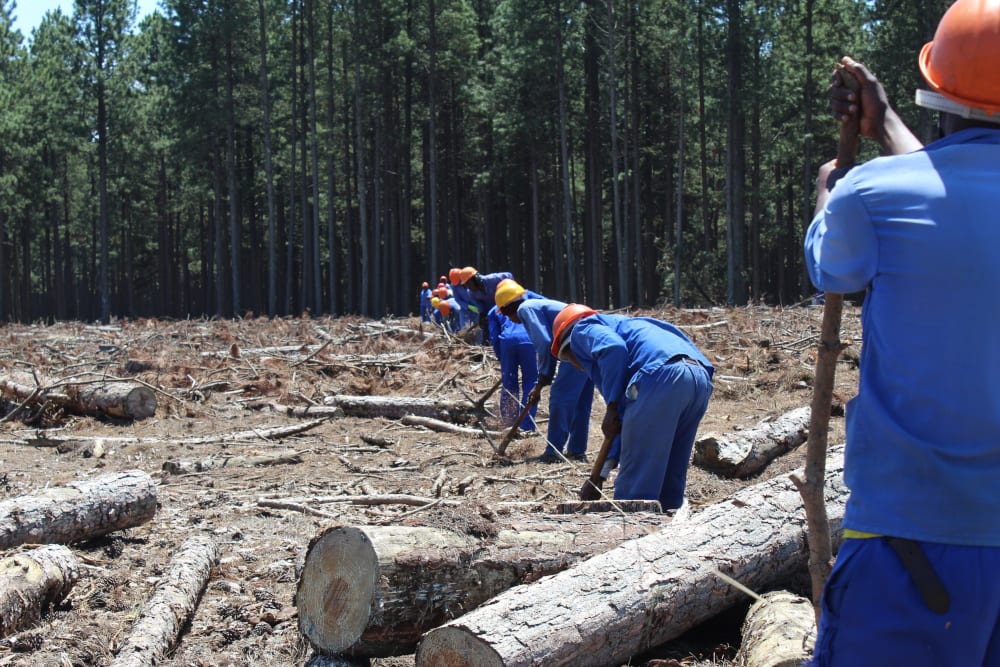 How Forest Tabs works?

Forest Tabs presents a platform where all these inefficiencies are resolved in a few clicks on either web portal or mobile device. The Forest Tabs application functions are based on two interdependent platforms. The web portal is used to upload and allocate planned silviculture activities for a specified period and the mobile platform (which is designed for Android devices) enables any designated person (for example a team supervisor or foreman or forester) to capture the required daily site information such as the resources used (chemical, fertilizers), labour used to perform work daily and work quality assessments. Furthermore, accessible information parameters can be set depending on the role an individual performs within the company. The data captured is then available (real-time) on the web portal for a forester or management to:
• Track progress of work (not started, in progress and completed)
• Monitor the use of resources (e.g. vehicles, chemicals, fertilizer etc.)

• Check work quality assessments (e.g. checklist and images)

• View financial reports of all activities (profits and losses per activity)

• View employee turnover (time sheets)

• Generate reports (planned vs actual, completed activities, cost per ha, labour turnover, activity summary etc.)

A summary of the simple workflow is provided below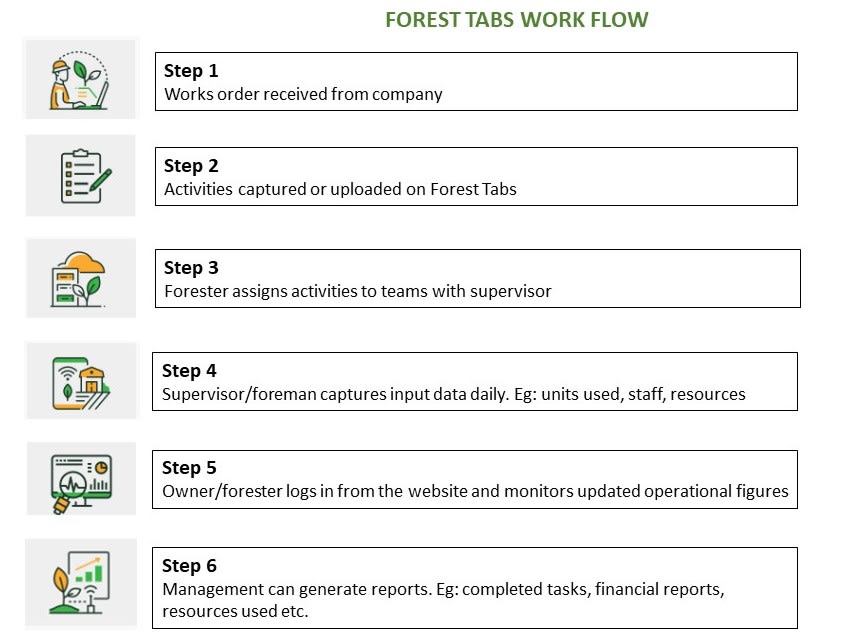 Final thoughts
As a contractor owner, imagine being away from your operations but still close enough to know what is happening everyday in your business. Being able to monitor the daily activities performed, team performances, overall work progress and targets… Forest Tabs, makes it possible. Finally, Forest Tabs understands that the needs and requirements of forest service providers may differ, therefore Forest Tabs works with all contractors or forest owners to develop an appropriate tool to serve the pressing needs.
For more information or a demo of how this management system works, you can contact
info@foresttabs.com
or visit
www.foresttabs.com